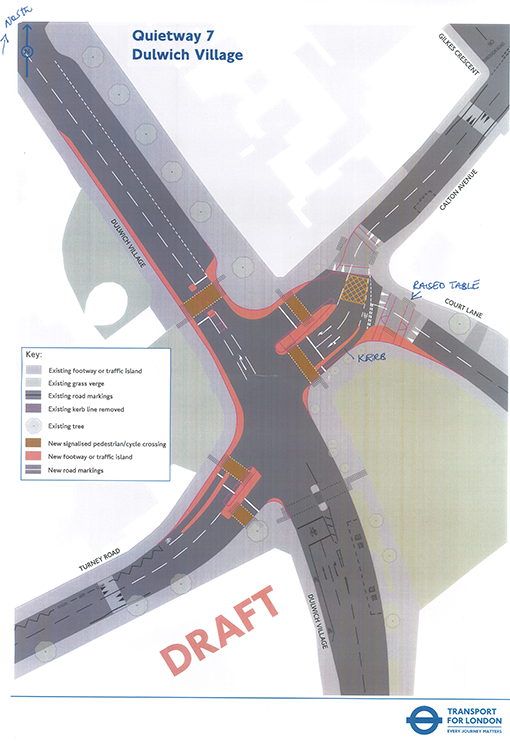 What is Southwark proposing for Court Lane and the Dulwich Village Junction?
Reduce cycle times at the junction
Staggered pedestrian crossings – less waiting time
Kerbs to separate cyclists from general traffic in space and time
Separate traffic signals phase for cyclists
Cyclists negotiate the junction with lower risk of collision
Change of priority at the Court Lane/Calton Avenue junction in favour of Calton Avenue
Wider footways for pedestrians
Pedestrian countdown signals
Banned left turn from Dulwich Village into Turney Road
What are Southwark proposing for Calton Avenue and Turney Road?
Removal of traffic islands
Marked advisory parking bays – non-enforceable
Removal of centre line road markings
Parking restrictions at junctions to remove pinch points
New Zebra crossing on Turney Road
Additional speed humps
Raised table on Turney Road at junction with Burbage Road to be re-profiled and enlarged into side roads
Build-outs to replace refuges
The COLAR committee met on January 22nd to discuss the Quietways plans, as presented by Southwark (shown above). A summary of the issues raised at the meeting can be downloaded by clicking on the following link:
Notes from 22nd Jan – final pages
The start date for the four week Quietways consultation period is now February 15th. This delay is due to Southwark needing time to consider the feedback from the stakeholders meeting on January 21st at which COLAR was represented.
The Sustrans consultation report can be found here.